Ingrid Kvangraven has a nice article, 200 Years of Ricardian Trade Theory: How Is This Still A Thing? on the blog, Developing Economics. In that, she asks how "the observation of persistent imbalances (and recurring debt crises in the deficit countries) appears to have little impact on the popularity of Ricardo's theory."
It's a nice article going into details about the assumptions of the trade theory, but let me just add another perspective. New Consensus Economics is based on the assumption about the magic of prices and market forces acting to resolve imbalances. Government "intervention" (a loaded word), supposedly spoils this magic and economists are trained to think that this is the reason for crisis. So a New Consensus economist doesn't find this to be contradictory. "Hey government, why did you interfere with the workings of the market", an economist is likely to say.
The role of the government in this model is mainly about law and order and is supposed to balance its books. Whenever a crisis arises, economists tend to blame "fiscal profligacy" and recommend contraction of fiscal policy and "economic reforms".
Of course, since the financial crisis started about ten years back, economists have conceded that they have been wrong about several things. Fiscal policy is one major area where this is so. But the "learned intuition" is so deeply ingrained and ramified into every corner of their minds—borrowing words from Keynes—that it is difficult for them to escape old ideas.
It's unfortunate that Keynes didn't stress much about this problem, which is huge. In his GT, he did have a chapter on mercantilism and discussed how the mercantilists behaved the way they behaved because of their distrust in the role of market forces in resolving imbalances. Keynes also had a plan called the Keynes Plan, before the Bretton Woods established. Keynes proposes a fine on creditor nations as well (page 23-24):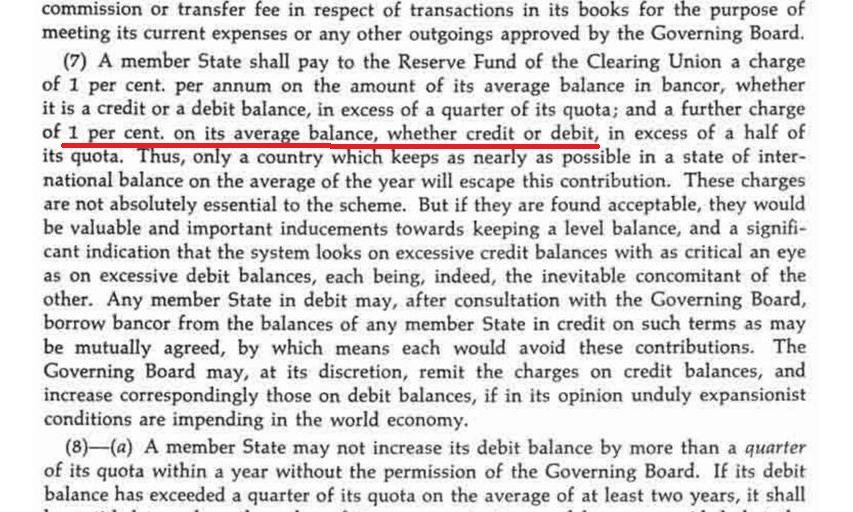 from page 23 of IMF's document on Keynes' Plan
Usually one only hears of this in Post-Keynesian literature but this was not all. He also proposed other responsibilities for creditors: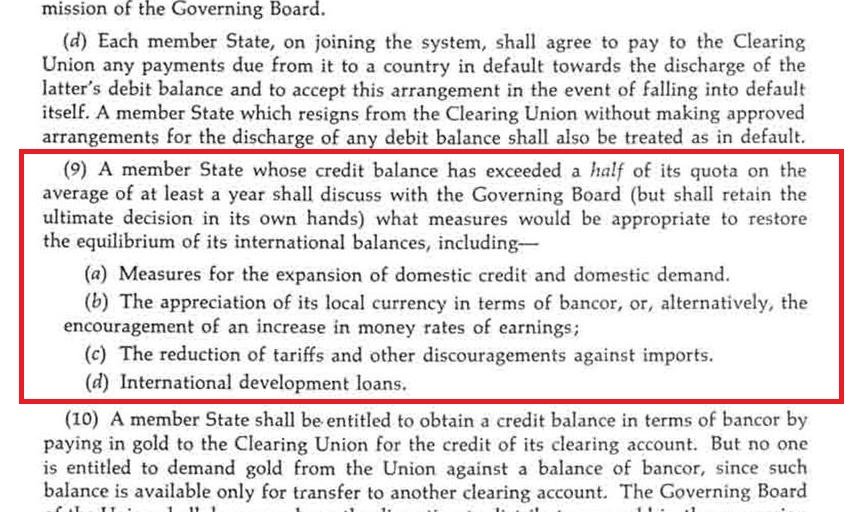 from page 24 of IMF's document on Keynes' Plan
Of course, the idea of a Bancor sounds crazy because of its similarity to the Euro. The trouble with the Euro is that there is no central government with large fiscal powers, such as in a federation like the United States. Bancor would need a world government. Nonetheless, we can still embrace Keynes' genius that creditors should take responsibility in the rules of the game and reject Bancor. So apart from the principle of effective demand, this is one of Keynes' biggest contribution to the history of humankind—that creditor nations have a responsibility.
Unfortunately, the world is still stuck with Ricardo's ideas!