Since the U.S. elections results, the media has been hysterically claiming that Hillary Clinton lost the election because of "Russian hacking". This is mainly to suffocate the debate on why Clinton really lost. A lot of journalists leaning Hillary Clinton before the election do this Russian hacking thing regularly either on TV, or on Twitter or in their articles. Even Paul Krugman has been mentioning Vladimir Putin's name in almost every article since Nov 9.
There is of course little truth to all this. The main reason this story has attention is that Julian Assange's WikiLeaks leaked emails of John Podesta, a former White House chief of staff. It's true that Russia tries to hack the U.S. government servers regularly and hence it's become easier for people promoting the Russian hacking story to claim that WikiLeaks' source is the Russian government. But nobody has given any proof of this, yet.
But instead of stopping, the hysteria keeps continuing. Recently The New Yorker published a 13,000-word cover story (Mar 6, 2017) on Trump and Russia/Putin.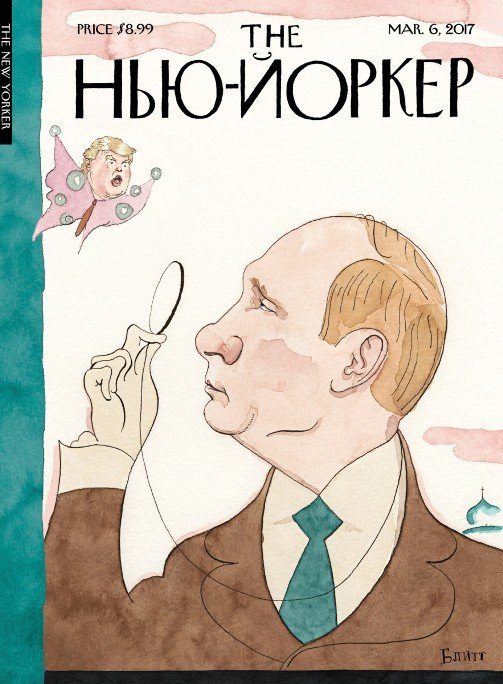 The online version has this header image: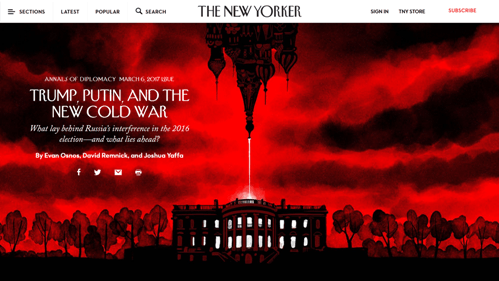 But toward the end of the long essay, The New Yorker makes this admission:
No reasonable analyst believes that Russia's active measures in the United States and Europe have been the dominant force behind the ascent of Trump and nationalist politicians in Europe. Resentment of the effects of globalization and deindustrialization are far more important factors.
So despite so much hysteria, the magazine is conceding to the effect of globalization and de-industrialization on workers.
Glenn Greenwald of The Intercept has a nice critique of The New Yorker's cover story. He says:
As long as the Russia story enables pervasive avoidance of self-critique – one of the things humans least like to do – it will continue to resonate no matter its actual substance and value.
And quoting the cover story's reference to globalization and deindustrialization, he says:
As Even The New Yorker Admits™, the primary reason for Trump, for Brexit, and for growing right-wing über-nationalism throughout Europe is that prevailing neoliberal policies have destroyed the economic security and future of hundreds of millions of people, rendering them highly susceptible to scapegoating and desperate, in a nothing-to-lose sort of way, for any type of radical change, no matter how risky or harmful that change might be. But all of that gets to be ignored, all of the self-reckoning is avoided, as long we get ourselves to believe that some omnipotent foreign power is behind it all.
Donald Trump has to be resisted but a strong alternative would not be neoliberalism.