This mini-post is more intended for my own reference, so that I remember this and don't forget.
After all these years, Mario Draghi has finally said it. After repeatedly insisting Euro Area governments do "structural reforms", Draghi has conceded that Germany should do a fiscal expansion.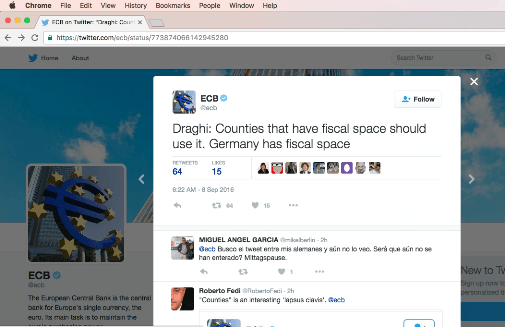 ECB Tweet quoting Mario Draghi during his monetary policy presser, 8 Sep 2016.
Click the screenshot to view the Tweet on Twitter. 
Post-Keynesians have always maintained that "surplus" countries put a burden on "deficit" countries. Since Germany has a high positive current account balance, and sells its product abroad, it isn't unfair to ask its government to expand domestic demand via fiscal policy and reduce imbalances.