There is no branch of economics in which there is a wider gap between orthodox doctrine and actual problems than in the theory of international trade.

– Joan Robinson, The Need For A Reconsideration Of The Theory Of International Trade, 1973
Orthodox trade theory tells us that the "market mechanism" should work to resolve imbalances in the current account of balance of international payments. Although, the economics profession has conceded that Keynesianism is correct, it is still far from thinking clearly about international trade.
So it is a bit surprising that The Economist would say something unorthodox about this. In a recent article it complains about Germany: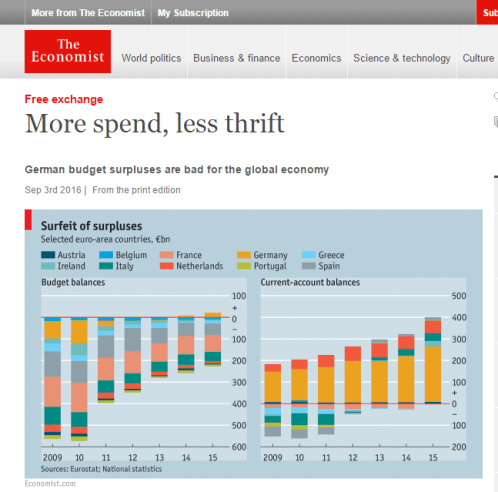 This is the Post-Keynesian idea that surplus economies put a burden on deficit economies.
A fiscal expansion by the German government has the effect of raising domestic demand and imports and reducing the German current account balance of payments. This allows the rest of the world to grow both because of German imports and also because they are less "balance-of-payments constraint".
Second, Brad Setser has a blog post on the current account surplus of the Republic of Korea (South Korea).
It's impressive to see Setser get the causality right:
Fiscal policy alone doesn't determine the current account (even if tends to be the biggest factor in the IMF's own model). A boom in domestic demand, for example, would improve the fiscal balance and lower the current account surplus, just as a fall in private demand improves the current account balance while raising the fiscal deficit.
The current account balance, government's budget balance and the private sector financial balance are related by an identity and sum to zero. But the identity itself shouldn't be confused with causation.
The correct causation between the balances is between domestic demand and output at home versus abroad. This causality has been highlighted by Wynne Godley in the past. See more on this blog post by me here.