In this interview (linked below) with The New York Times, Joseph Stiglitz points out the response of the EU to the UK EU referendum vote and its authoritarianism. He says that after the Brexit vote, Jean-Claude Juncker, who is the President of the European Union said that the EU will act tough on the UK to make sure other European Union members do not leave. Stiglitz then says that you want to believe that people want to stay in the EU because it brings benefits to them but, no, that is not the way Juncker is thinking. He wants people to stay because of fear and is issuing a threat.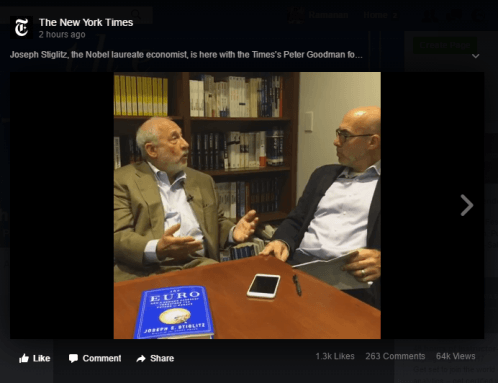 click the picture to see the video on NYT's Facebook page.
Discussion around 19:00
Another important point Stiglitz makes about the Euro Area is about a system of progressive taxation. This point is often less discussed. If France raises taxes, it makes it easier for economic units to move to another place inside the Euro Area and hence it is difficult to create a system of progressive taxation.
I find it disappointing that many heterodox economists support the European Union. Will the Juncker threat make them realize?