'Free Trade Loses Political Favour,' says the front-page of today's Wall Street Journal.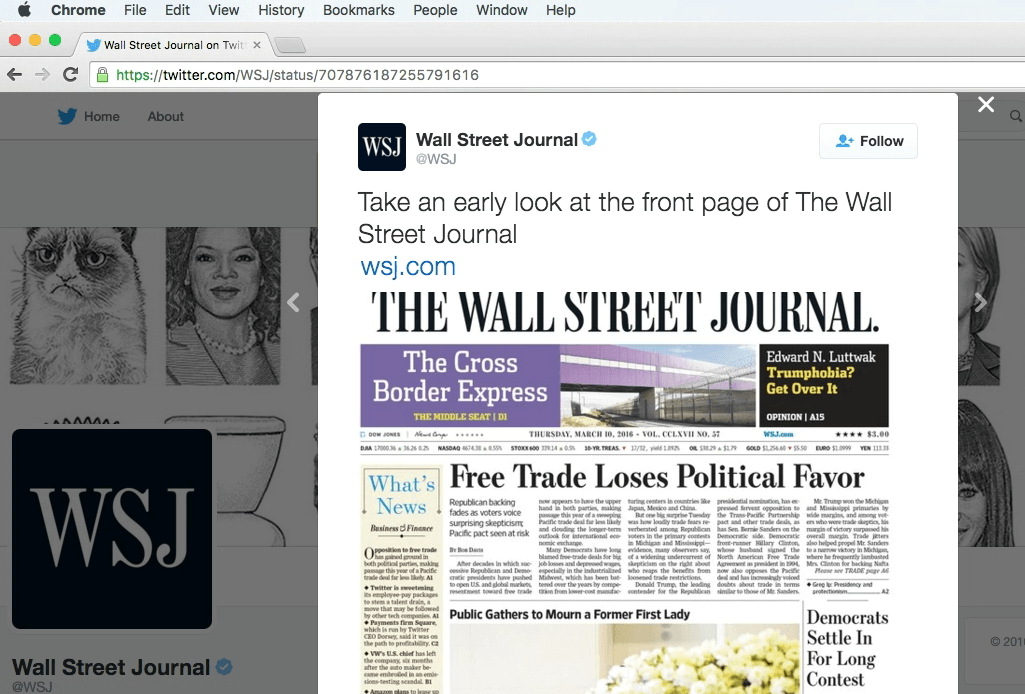 Paul Krugman has two articles conceding that he held wrong views earlier.
Krugman says:
But it's also true that much of the elite defense of globalization is basically dishonest: false claims of inevitability, scare tactics (protectionism causes depressions!), vastly exaggerated claims for the benefits of trade liberalization and the costs of protection, hand-waving away the large distributional effects that are what standard models actually predict.
Krugman claims that he hasn't done any of it but a reading of his 1996 article Ricardo's Difficult Idea says the exact opposite.
The earliest cri de cœur of the U.S. balance of payments situation came from Wynne Godley in his 1999 article Seven Unsustainable Processes. 
In his sub-heading 'Policy Considerations,' he says:
Policy Considerations

The main conclusion of this paper is that if, as seems likely, the United States enters an era of stagnation in the first decade of the new millennium, it will become necessary both to relax the fiscal stance and to increase exports relative to imports. According to the models deployed, there is no great technical difficulty about carrying out such a program except that it will be difficult to get the timing right. For instance, it would be quite wrong to relax fiscal policy immediately, just as the credit boom reaches its peak. As stated in the introduction, this paper does not argue in favor of fiscal fine-tuning; its central contention is rather that the whole stance of fiscal policy is wrong in that it is much too restrictive to be consistent with full employment in the long run. A more formidable obstacle to the implementation of a wholesale relaxation of fiscal policy at any stage resides in the fact that this would run slap contrary to the powerfully entrenched, political culture of the present time.

The logic of this analysis is that, over the coming five to ten years, it will be necessary not only to bring about a substantial relaxation in the fiscal stance but also to ensure, by one means or another, that there is a structural improvement in the United States's balance of payments. It is not legitimate to assume that the external deficit will at some stage automatically correct itself; too many countries in the past have found themselves trapped by exploding overseas indebtedness that had eventually to be corrected by force majeure for this to be tenable.

There are, in principle, four ways in which the net export demand can be increased: (1) by depreciating the currency, (2) by deflating the economy to the point at which imports are reduced to the level of exports, (3) by getting other countries to expand their economies by fiscal or other means, and (4) by adopting "Article 12 control" of imports, so called after Article 12 of the GATT (General Agreement on Tariffs and Trade), which was creatively adjusted when the World Trade Organization came into existence specifically to allow nondiscriminatory import controls to protect a country's foreign exchange reserves. This list of remedies for the external deficit does not include protection as commonly understood, namely, the selective use of tariffs or other discriminatory measures to assist particular industries and firms that are suffering from relative decline. This kind of protectionism is not included because, apart from other fundamental objections, it would not do the trick. Of the four alternatives, we rule out the second–progressive deflation and resulting high unemployment–on moral grounds. Serious difficulties attend the adoption of any of the remaining three remedies, but none of them can be ruled out categorically.

[italics in original, underlying mine]