The US economy is only 8.8 percent above the pre-crisis peak.
The Levy Institute has a new Strategic Analysis publication titled Fiscal Austerity, Dollar Appreciation, And Maldistribution Will Derail The US Economy in which they identity three main structural characteristics of the economy of the United States that stand in the way of the recovery:
(1) the weak performance of net exports, (2) pervasive fiscal conservatism, and (3) high income inequality
They show that in their baseline scenario, if the projections of the Congressional Budget Office's outlook hold, their model simulations imply that the private sector's net lending would turn negative by the end of 2017 and hence the private sector would be in a financial deficit, which is not sustainable.
The publication has some nice charts about the US balance of payments. One is the components of the current account of balance of payments with attention on the primary income balance: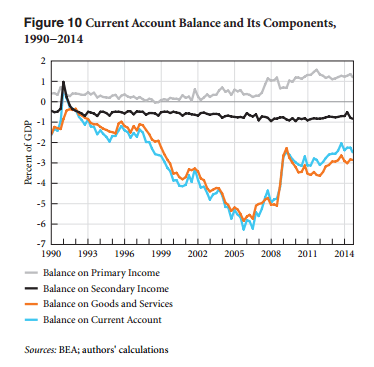 Note how the balance on primary income has grown during the recent crisis. Another chart gives a further breakdown: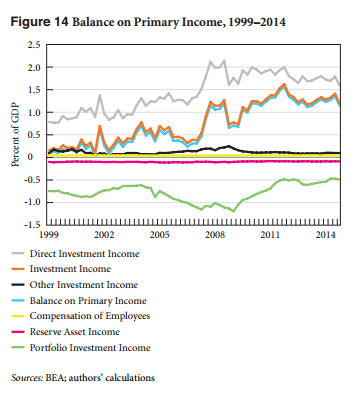 So direct investment income is the main component.
I like the way the authors explain this: it is a symptom of the crisis. From the article:
An interesting question is whether this improvement in net primary income receipts is sustainable or just symptomatic of the crisis. In our view, it is most likely the latter.
For more details, read the article here.