I came across this article (via a Tweet from Stephen Kinsella): Accounting As The Master Metaphor Of Economics by Arjo Klamer and Donald McCloskey which discusses how the framework of national accounts has been pushed to the background in economic analysis over the years.
It is a nice read – although boring in a few places. I found this reference to John Hicks' 1942 book The Social Framework: An Introduction To Economics in the above article and managed to get a copy – although a used one but with almost no usage. As described in the Klamer-McCloskey's article, Hicks' textbook really goes into details of national accounts and he seems to have had a great intuition of how it all works.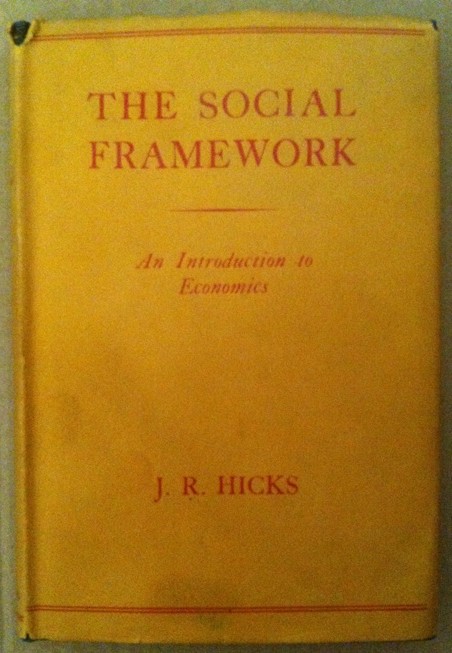 Hicks's book gives a nice introduction to how important national accounts are in understanding and describing the production process and economic cycles.
Here is a scan of two pages on the balance of payments – the topic I like the most.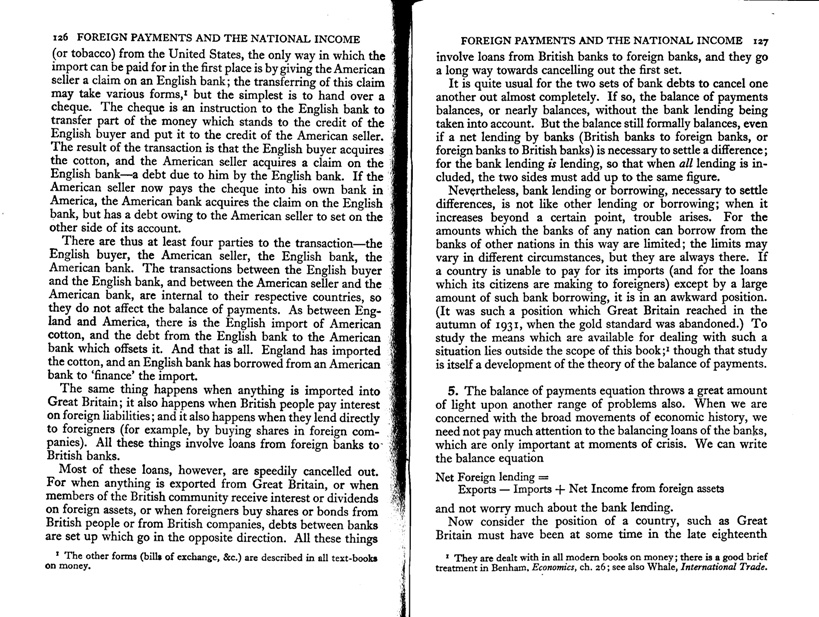 (click to enlarge)
Hicks understood how weak balance of payments can cause troubles. Of course, it took the genius of Nicholas Kaldor to realize the supreme importance of balance of payments in the determination of national income and expenditure. Leaving that aside, the text has nice ideas and discussions on how stocks and flows feed into one another.
John Hicks is famous for an entirely different reason – the IS/LM model. Later he accepted it was a huge mistake, but put it mildly: "… as time as gone on, I have myself become dissatisfied with it". But economists still keep using it and keep erring.
Also, Hicks was to soon abandon/forget his own social accounting approach as per Klamer-McCloskey's article. Perhaps, not really.
In an extremely important paper, Wynne Godley said:
To come down to it, the present paper claims to have made, so far as I know for the first time, a rigorous synthesis of the theory of credit and money creation with that of income determination in the (Cambridge) Keynesian tradition. My belief is that nothing the paper contains would have been surprising or new to, say, Kaldor, Hicks, Joan Robinson or Kahn.
John Hicks also had another nice book called A Market Theory Of Money written in 1989. Here is a great insight (also the view of Kaldor) from Page 11, Chapter 1 named "Supply And Demand?" on how to create a dynamic Keynesian theory of determination of national income and expenditure:

… The traditional view that market price is, at least in some way, determined by an equation of demand and supply had now to be given up. If demand and supply are interpreted, as had formerly seemed to be sufficient, as flow demands and supplies coming from outsiders, it is no longer true that there is any tendency over any particular period, for them to be equalized: a difference between them, if it were not too large, could be matched by a change in stocks. It is of course true that if no distinction is made between demand from stockholders and demand from outside the market, demand and supply in that inclusive sense  must be equal. But that equation is vacuous. It cannot be used to determine price, in Walras' or Marshall's manner. For what matters to the stockholder is the stock that he is holding: the increment in that stock, during a period is the difference between what is held at the end and what was held at the beginning, and the beginning stock is carried over from the past. So the demand-supply equation can only be used in a recursive manner, to determine a sequence (It is a difference or a differential equation); it cannot be used directly to determine price, as Walras and Marshall had used it.
I came across a reference in the book (The Social Framework) to a paper by James Meade and Richard Stone on concepts on national accounts: The Construction Of Tables Of National Income, Expenditure, Savings And Investment written in 1941. It has the following interesting table:

which is the now famous sectoral balances identity! Incidentally, it also includes Kalecki's profit equation. In the above "Foreign Investment" shouldn't be confused with Foreign Direct Investment flows in the financial account of the balance of payments. The authors define it as:
… equal to income generated by receipts from abroad less current expenditure abroad.
So can we call the profit equation SMK equation? 🙂
James Meade and Richard Stone were pioneers of national accounts. Incidentally, James Meade wrote a famous textbook on balance of payments.
Of course the way this is presented doesn't make the connection between the financial account and current accounts. The sectoral balances was usually written by Wynne Godley as:
NAFA = PSBR + BP
where NAFA is the net accumulation of financial assets of the private sector, PSBR is the net public sector borrowing requirement, and BP is the current account balance of international payments. More on this connection below.
How it is to be derived in a stock-flow consistent framwork of Godley/Lavoie? If you click on this search Transactions Flow Matrix, you will find some blog posts on the background. First, we construct a flow matrix like this: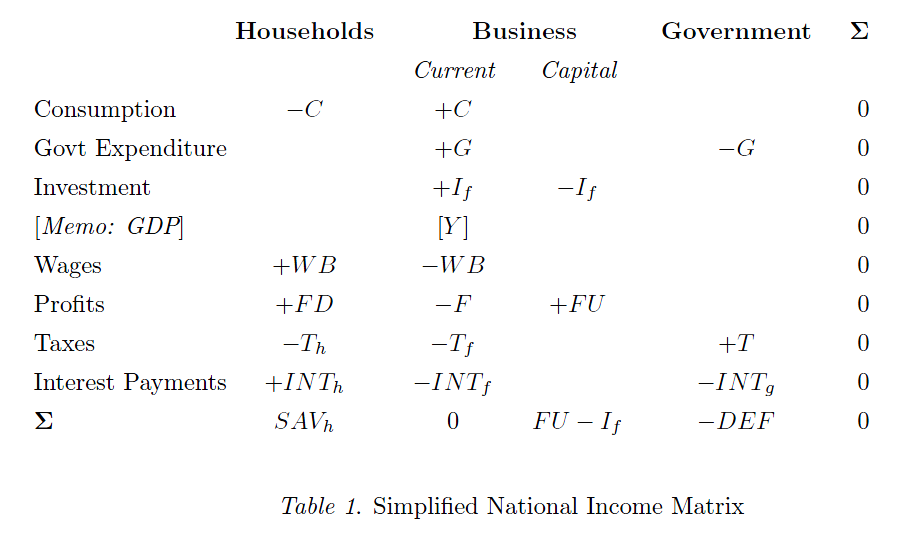 The last line is essentially Kalecki's profit equation.
The above construction however raises an important question. Godley and Lavoie's textbook (Chapter 2) quotes a famous 1949 article of Morris Copeland on this:
When total purchases of our national product increase, where does the money come from to finance them? When purchases of our national product decline, what becomes of the money that is not spent?
Copeland's work was highly successful and established the flow of funds accounts of the United States in 1952.
Here is a republished version of the article (via Google Books):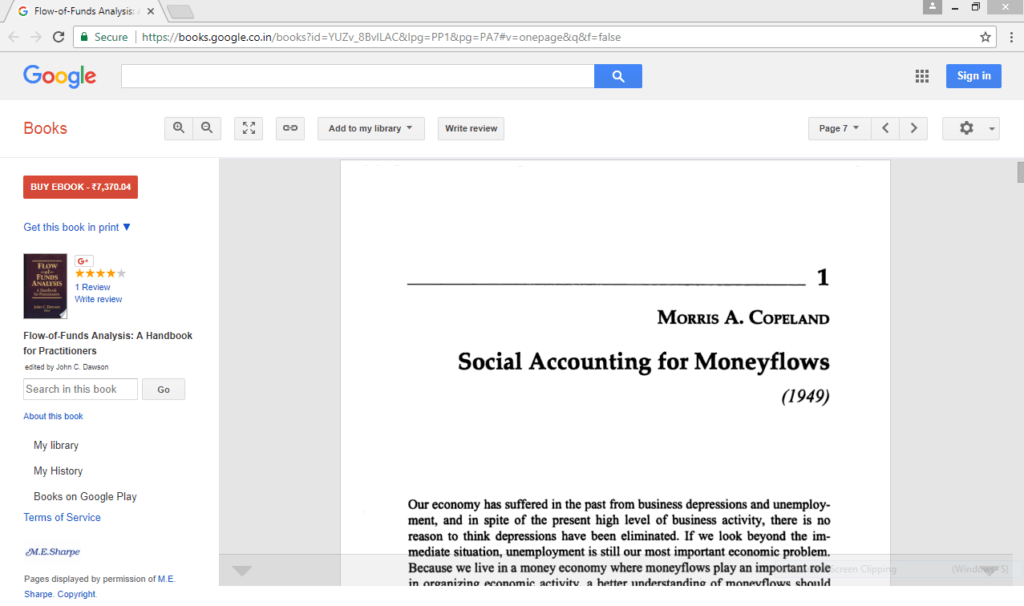 click to preview on Google Books' site
Incidentally, Copeland was motivated to prove the quantity theory of money wrong when he did this work! Also Godley/Lavoie point out that John Dawson (the editor of the above book) says:
the acceptance of…flow-of-funds accounting by academic economists has been an uphill battle because its implications run counter to a number of doctrines deeply embedded in the minds of economists.
in an article from the chapter The Conceptual Relation Of Flow-Of-Funds Accounts To The SNA of the same book.
Over time, the system of national accounts (with its first version in 1947) has used some of the concepts of flow of funds accounting and now the framework is much more wider than usual textbook guides of national accounts. The flow of funds still retains importance because it has information which the system of national accounts such as (2008 SNA) doesn't handle.
Here's the UN website for the historical versions of the system of national accounts.
How does one look at this in a stock-flow coherent framework? Simple, we need a full transactions flow matrix – which not only includes income/expenditure flows but also financial flows. The following is how it looks like for a simple model: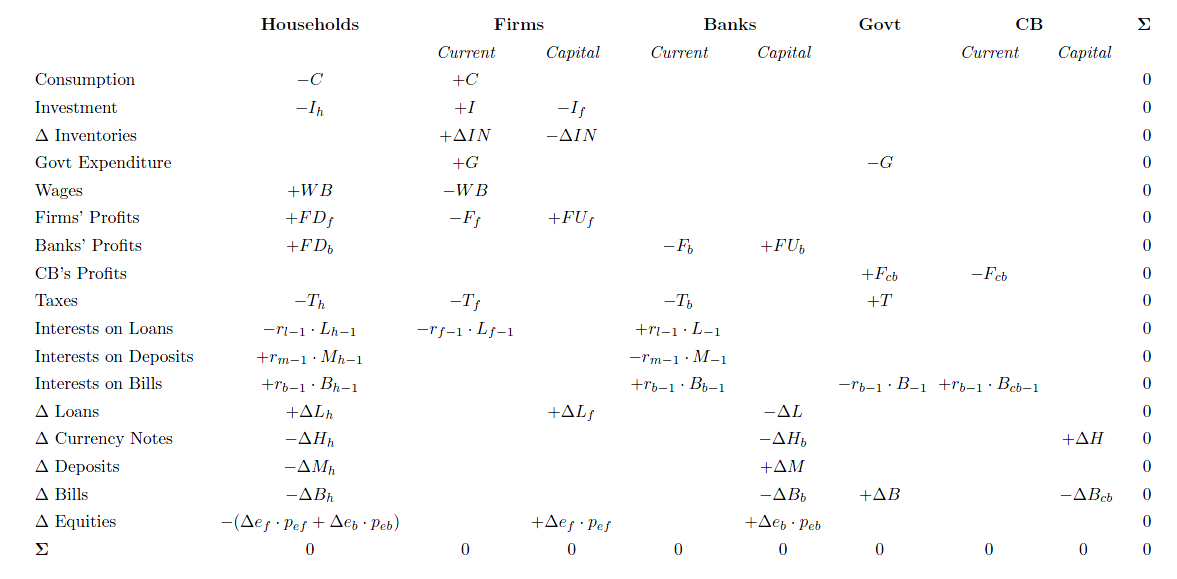 (Click to zoom)
Of course, identities themselves shouldn't be looked at as models. One needs a fully coherent accounting model of the economy based on behavioural assumptions and "closures". See this essay Keynesian theorising during hard times: stock-flow consistent models as an unexplored 'frontier' of Keynesian macroeconomics Camb. J. Econ. (July 2006) 30(4): 541-565 by Claudio Dos Santos and also Wynne Godley and Marc Lavoie's book Monetary Economics. As Dos Santos quotes Lance Taylor in the article:
Formally, prescribing a closure boils down to stating which variables are endogenous or exogenous in an equation system largely based upon macroeconomic accounting identities, and figuring out how they influence one another.