The only truly exogenous factor is whatever exists at a given moment of time, as a heritage of the past.
– Nicholas Kaldor, 1985
That's my favourite all time quote.
I got myself Kaldor's lecture series Raffaele Mattioli Lectures in a book titled Causes Of Growth And Stagnation In The World Economy today.
Cover picture taken from my iPhone: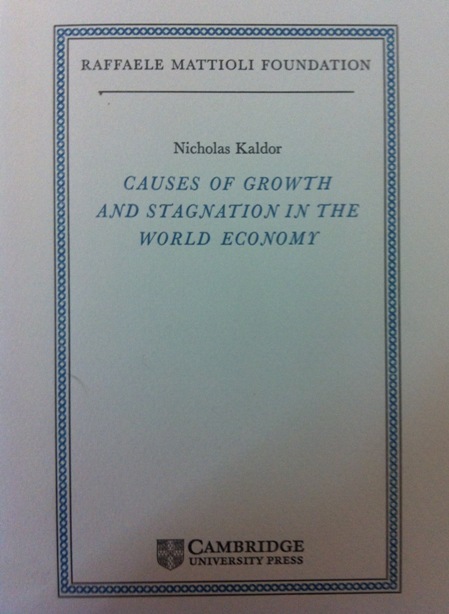 It has Kaldor's biography by the one and only one Anthony Thirlwall (which is also available separately as a book but reproduced in this book) and a bibliography of Nicholas Kaldor compiled by Ferdinando Targetti.
Another biography is by John E. King, titled Nicholas Kaldor. It also has a lot of articles by Kaldor in the references section and is an excellent book.
Targetti has also written a biography – published in 1992 [which I just ordered on amazon.com!]
Luigi Pasinetti has a small biography of Kaldor in Keynes And The Cambridge Keynesians: A Revolution In Economics To Be Accomplished.
Of course – if you are highly interested in Monetary Economics – you simply shouldn't miss The Scourge Of Monetarism.
P.S.
My blog turned 1 today!